Introducing the Librem 11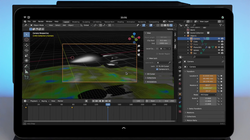 Introducing the Librem 11 Tablet. This powerful tablet comes preloaded with PureOS running our Phosh user interface. The Librem 11 is our first product launching with our latest and greatest release of PureOS code name, Crimson. Enjoy a user experience free of data mining. The Librem 11 running PureOS avoids surveillance from the default user experience to Apps in our store.
Apps are blazing fast and are driven by the Intel N5100 CPU. It has a Base frequency of 1.1GHz and burst up to 2.8GHz.