8 Best Free and Open Source Sticky Note Applications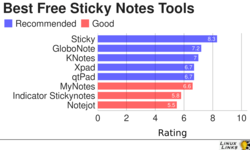 It has often been said that information confers power, and that the most important currency in our culture today is information. Keeping track of bits and pieces of information is a minefield.
In part, this is because of passable short term memory, coupled with what can only be described as 'brain fog'. To combat this, we arm myself with open source software that helps us efficiently capture a lot of information. We generally prefer to keep our information local and cloud-free, primarily for security reasons. And we primarily advance software which doesn't tie itself to any specific company or service, whether it's Evernote, Google, or Microsoft.
Note-taking apps are the online equivalent of notebooks, and because they're digital, they can do more for you than paper can. Note-taking apps also include text search, so in a matter of seconds, you can find whatever notes you need.