TIDAL Hi-Fi – Electron-based software for TIDAL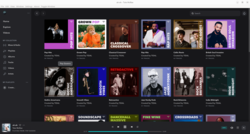 TIDAL Hi-Fi is a third-party music streaming program. It uses Castlabs' version of Electron for widevine support. It's free and open source software. You'll need a subscription to TIDAL to use the software.
It will no doubt cause confusion that the software is named TIDAL Hi-Fi given that the TIDAL service has a HiFi plan. Let's be very clear, TIDAL Hi-Fi has no affiliation with TIDAL. The latest version appears to be renamed to Tidal-Hifi although it's still showing as TIDAL Hi-Fi in the program. Even with this renaming, things really aren't any clearer.