17 Top Free and Open Source Python Natural Language Processing Tools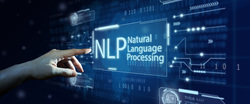 Many challenges in NLP involve natural language understanding. In other words, computers learn how to determine meaning from human or natural language input, and others involve natural language generation.
Python and R stand toe-to-toe in data science. But in the field of NLP, Python stands very tall. The Natural Language Toolkit (NLTK) for Python is an awesome library and set of corpuses.
Here's our verdict captured in a legendary LinuxLinks-style ratings chart. Only free and open source software is eligible for inclusion here.