GNOME 44 Alpha Released with New Stream Deck App, File Chooser Grid View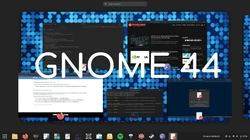 GNOME 44 promises a GTK4 port of the Epiphany (GNOME Web) web browser, a file chooser grid view and support for 64px icon size in grid view in the Nautilus file manager, a Bluetooth submenu in Quick Settings, the ability to disable Settings search results, as well as a redesigned Accessibility panel with new a navigation pattern in Settings.
Talking about Settings (a.k.a. GNOME Control Center), it received a lot of changes including support for sharing Wi-Fi passwords through a QR code, a mobile-friendly Date & Time panel, as well as the ability to see kernel and firmware versions in the About panel.