KDE Plasma 6 Will Support Night Color on Wayland for NVIDIA Users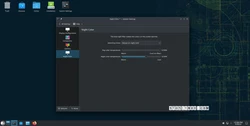 The upcoming KDE Plasma 6 desktop environment series looks to offer support for the Night Color feature that automatically adjusts the color temperature of your screen to protect your eyes during long night computing sessions for users with NVIDIA graphics cards when using the Plasma Wayland session.
KDE Plasma 6 is shaping up nicely lately and looks like it gears up to become the best Plasma release ever. Last week, I told you that Plasma 6 promises basic HDR support and it will adopt the Plasma Wayland by default.