PiTalk 4G HAT for Raspberry Pi / 4G USB dongle targets M2M and IoT applications (Crowdfunding)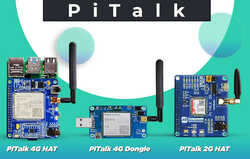 PiTalk is a 4G cellular connectivity solution based on Quectel EG25-G LTE Cat 4 module intended for M2M and IoT applications, and available either as a Raspberry Pi HAT or as a USB dongle. There's also a PiTalk 2G HAT, but we'll focus on the 4G hardware in this article.
PiTalk supports data rates up to 150 Mbps downlink and 50 Mbps uplink, integrates GNSS support, and as its name implies you can also make and receive calls, or send/receive SMS messages for the device provide you connect a display, speaker, and microphone to the Raspberry Pi or other host device.