Librem 11 Memory Adventures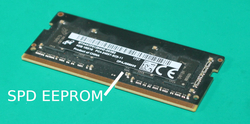 When I started porting coreboot to the Librem 11, one of the first few tasks was to get memory working.
Like the Librem 5, the Librem 11 has soldered memory ("memory down"). This has implications on the firmware. Socketed memory carries a small SPD EEPROM with information about the memory module. Memory down boards don't have that SPD EEPROM – since the memory can't change, we just include all that information in the system firmware and save the cost of one more chip.