Best Free and Open Source Alternatives to Apple Shortcuts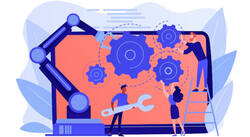 In 2020, Apple began the Apple silicon transition, using self-designed, 64-bit ARM-based Apple M1 processors on new Mac computers. Maybe it's the perfect time to move away from the proprietary world of Apple, and embrace the open source Linux scene.
Apple Shortcuts (formerly Workflow) is a visual scripting application which allows users to create macros for executing specific tasks on their device(s).
Shortcuts is proprietary software and not available for Linux. We recommend the best free and open source alternatives.