89 operating systems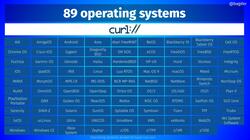 I occasionally do talks about curl. In these talks I often include a few slides that say something abut curl's coverage and presence on different platforms. Mostly to boast of course, but also to help explain to the audience how curl has manged to reach its ten billion installations.
This is current incarnation of those seven slides in November 2022. I am of course also eager to get your feedback on the specific contents, especially if you miss details in them, that I should add so that my future curl presentations include more accurate data.
curl runs in all your devices
curl is used in (almost) every Internet-connected device out there, and I try to visualize that with this packed slide. Cars, servers, game consoles, medical devices, games, apps, operating systems, watches, robots, TVs, speakers, light-bulbs, freezers, printers, motorcycles, music instruments and more.