Games: Euro Truck Simulator, Heroic Games Launcher, and Creator Day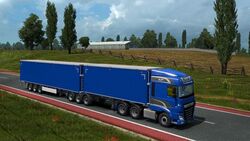 Love Euro Truck Simulator 2 and American Truck Simulator? Two very popular games that SCS Software have been upgrading for a long time now, and they're celebrating their 25th anniversary.

Probably one of my favourite open source projects, Heroic Games Launcher helps you manage your GOG and Epic Games accounts on Linux and Steam Deck. A big new release is getting closer, with v2.5.0 Beta 3 out now integrating How Long to Beat data.

Game store itch.io are doing another Creator Day, which is where they don't take a cut from developers for any sales across the whole day (until 8AM UTC tomorrow). On top of that, they're also doing a big sale until Tuesday, which again ends at 8AM UTC.