Innodisk EXMU-X261FPGA Machine Vision Platform is based on AMD Xilinx Kria K26 SoM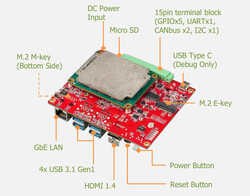 Going from designing and manufacturing storage chips to AI processing with a high-end FPGA seems like a risky proposition, but I'd assume the devkit relies on AMD Xilinx' Ubuntu 18.04 image with Linux 5.4.0 and FPGA tools, and Innodisk mostly worked on the carrier board which appears to be a modified version of the Kria KV260 Vision AI Starter Kit, as well as the Innodisk's AI Suite SDK with an FPGA Model Zoo, iCAP (Innodisk Cloud Administration Platform), iVIT (Innodisk Vision Intelligence Toolkit), and InnoAgent to support out-of-band (OOB) remote management.
Innodisk EXMU-X261 FPGA machine vision platform can notably be used for surveillance, industrial, and automation applications. The company especially highlights automated defect inspection that can be performed much faster with the kit compared to human inspection which typically takes an average of three seconds per item. Availability and pricing information was not disclosed. More details may be found on the product page and press release.