Keyboard Fetishes and System76 (UPDATED)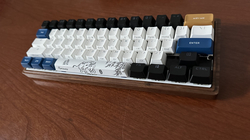 UPDATE
One more some hours ago:
Prebuilt mechanical keyboards often neglect Linux support. Users frequently report success in getting a mechanical keyboard's basic functions to work, but many of these peripherals don't accommodate software for controlling advanced features, like macros, with Linux. Since last year, System76's Launch keyboard has been trying to address that problem. But number crunchers will be much more interested in the new Launch Heavy.

Released this week, the Launch Heavy is a numpad-equipped version of the 84-key Launch. As detailed in our System76 Launch review, the keyboard is one of the most customizable Linux-focused mechanical keyboards one can find. However, an absent numpad made the Launch an immediate 'no' for many. Now, the newly released Launch Heavy is addressing many, but not all, of its smaller counterpart's shortcomings.
Newer from FUDzilla:
Launch Heavy carries a hefty price tagMechanical keyboards often need to pay more attention to Linux support because manufacturers see developers as...