Best Free and Open Source Screen-readers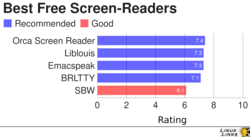 A screen-reader is a computer application designed to provide spoken feedback to a blind or visually impaired person. This type of software has been available since the mid 1980s.
The software transmits what text is displayed on the screen into a form that a visually impaired user can understand. This can be auditory, tactile, or both. A lot of research and development was undertaken to provide speech-access to the Graphical User Interface.
Screen-readers read the contents of a visual display. They can use a speech synthesizer to read text aloud letting users listen to the contents appearing in different parts of the display. Other software communicates data via a braille display.
Screen-readers help make the world of computers accessible to visually impaired users.
Here's our recommendations summarized in a legendary LinuxLinks-style chart. The software featured here is free and open source software. Note, Emacspeak takes a different approach. While it's not technically a screen-reader, it warrants inclusion.