Slimbook Titan, long-term usage report 1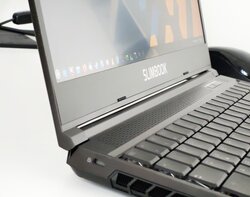 The Titan is an okay machine, so far, I must say. The early experience was really rough, and that left a lasting impression that I cannot shake off, no matter what. The mediocre keyboard also doesn't help. Then, the FP regarding the disk temperature and the suspend issues definitely make the whole story less pleasant. Yes, this is a powerful gaming rig, but it's flawed and limited at the moment, and I don't have full confidence in what it can do, and how long it will last. Yes, it's an experiment, but a very expensive one, and I'd like this machine to serve me, well, ten years from now.
I know that some of you readers are already thinking who's to blame for the suspend problem. The laptop manufacturer, Nvidia, someone else. As an end user, I do not care. I use a complete system, and as such, it ought to work as one whole, unified thingie. Supposedly, the Titan is a Linux-friendly machine, and therefore, it should work as such. Hopefully, the graphics card thing will be fixed, soon, the disk temperature alert will never happen again, and the keyboard will stay and annoy me with its spongy response and l33t font type. But that's why we're doing these long-term reviews and combat reports. Take care.