Peppermint Mini: The Newest Member of the Peppermint OS Family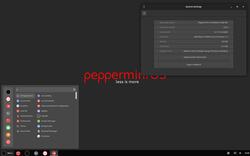 Peppermint is a minimalistic Linux distribution that aims to provide a lightweight and fast system that demands fewer hardware resources, thus an excellent choice for older computers.
Relying on the Xfce desktop environment, the distribution has two editions based on the stable Debian and Devuan branches.
However, the developers are on track to significantly expand what has been offered so far, with a new addition rising on the horizon. Meet Peppermint Mini.
It's FOSS:
As one of the most lightweight and flexible Linux distros around, Peppermint OS has been a good choice for those who want a Linux distro that takes up less space, with the freedom to tweak their experience as they like.

The recent release of Peppermint OS features Debian 12 release at its core. It included important improvements that resulted in better performance.

However, it seems that was not the end of it. The developers have introduced a new variant of Peppermint OS "Peppermint Mini" that allows for more control over the distro with a tiny ISO size.