Want to Add App Shortcuts to the Ubuntu Desktop? Use This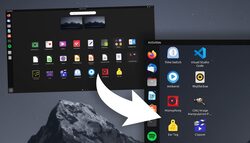 Looking for an easy way to add application shortcuts to the desktop on Ubuntu?
If so, the ably named Add to Desktop GNOME extension is what you need. This simple, straight-forward add-ons makes creating desktop shortcut for your favourite apps a total cinch.
How cinch-y?
Gawk at this gif: you just open the Applications grid in Ubuntu, right-click on an any application shortcut you see, select the "Add to Desktop", and bam: job done...