Blender 3.5 Released with New Sculpting Feature, Light Sampling, and More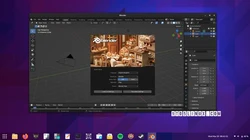 Highlights of the Blender 3.5 release include support for Vector Displacement Map (VDM) brushes for the Draw brush, a new Extrude Mode for the Trim tools, light sampling support for Cycles to more effectively sample scenes with many lights, as well as Open Shading Language (OSL) support for OptiX.
It also supports non-uniform object scales for spot lights, improves adaptive sampling for overexposed scenes to reduce render time, improves GPU rendering performance on Apple devices, adds "Select Linked Vertices" to weight the paint mode, and makes it easier to add F-Curve modifiers to multiple channels.
Update (by Roy)
Also in Liam Dawe's site:
Continuing to show how great open source is, the Blender team have released Blender 3.5 with some really fancy new features. Blender is used across many different industries from games to films and more.
More coverage (late):
Blender 3.5 features the usual crop of bug fixes, performance patches, and stability tune ups. But it's notable for introducing big improvements to the way it handles hair.

Yes, hair.
How to install:
Blender 3.5, the popular 3D creation software, was released few days ago. Here are the new features and how to install guide for Ubuntu users.