Hardkernel's ODROID-GO ULTRA Packs a Six-Core CPU for Speedy On-the-Go Retro Gaming (UPDATED)

Single-board computer specialist Hardkernel has launched its latest device — this time packing hardware from its ODROID-N2+ SBC into a handheld console built with emulation and gaming in mind: the ODROID-GO ULTRA.
"ODROID-GO ULTRA [OGU] is a new gaming focused development platform," Hardkernel explains of its latest launch. "Its overall system was designed based on our powerful ODROID-N2+. OGU's exterior and LCD size are the same as OGS [ODROID-GO SUPER], but the internal core components have been completely redesigned. The OGU PCB shape is identical to the OGS, but it has a totally different circuit design and requires a heatsink to cool down its more powerful CPU."
UPDATE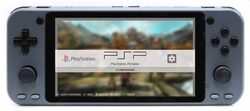 Hardkernel's ODROID-Go Ultra is a handheld game console with a 5 inch display, an Amlogic S922X processor, 2GB of RAM and 16GB of eMMC storage plus a microSD card reader for additional storage.

First announced in August, the handheld game console ships with an Ubuntu-based operating system and software designed for emulation. It's now available for purchase for $111 and comes in a choice of "dim gray" or transparent "clear white" color options.