11 Best Free and Open Source Tools for Novelists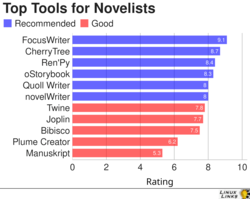 Writing is one of the essential skills in modern society. Being able to communicate effectively is paramount both at work and at home. It makes your thinking visible to others, and is the main way in which work, learning, and intellect is judged by others.
At first glance, the trusty word processor might seem a good tool for a novelist. After all, in days gone by, budding authors would tap away using a typewriter, and a word processor is the modern day equivalent. Linux has some excellent word processing software such as LibreOffice. However, word processors are actually not the ideal tool for some forms of writing, particularly novel-writing. In fact, it could be said that using a word processor for novel-writing is a recipe for disaster, and actually a retrograde step from a typewriter. Word processors are a general application software that are perfect for constructing business documents, letters, batch mailings using templates, etc. However, many word processors are too obtrusive and distracting for writers. What is needed is software that helps concentrate on the content of the novel, sketch out the chapters and scenes, work out the best structure, import research, add locations, characters and objects, and so on.