Late but lustrous, a fresh remix of Ubuntu emergesLate but lustrous, a fresh remix of Ubuntu emerges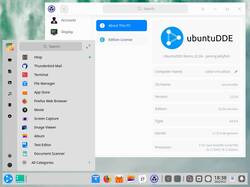 The team behind the unofficial Ubuntu remix with the Deepin desktop has rolled out an updated version based on the current Ubuntu long-term support release.
The Reg FOSS desk took a look at UbuntuDDE at the start of the year and came away impressed. The Linux Deepin desktop environment is bright, colorful, and easy to use, but some Western users might be reluctant to use an OS from the People's Republic of China. When we looked at the resource usage of the other unofficial flavors last month, we mentioned that, sadly, UbuntuDDE 22.04 hadn't surfaced. Well, now, here it is.