My DIY Dungeons and Dragons ambiance mixer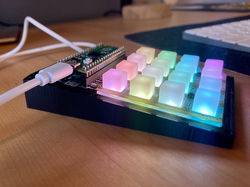 I find that an immersive sound ambiance is key to helping tabletop RPG players engage. It can increase their stress and sense of urgency during a fight, galvanize them during a harrowing speech, or break their heart when they realize they've just lost something and there's no getting it back.
I have been thinking about using a Launchpad to control and mix the ambiance while we play, but the more I read about its design, the less it seemed to fit. The cheapest Launchpad starts at 110€, and it is a full fledged MIDI controller. What I wanted was something simpler: a way to play different long sound ambiance tracks at the same time, and adjust their respective volume to create an immersive atmosphere.
The project started to take shape when I stumbled upon the Pimoroni RGB Keypad, a 4x4 rainbow-illuminated keypad that I could program using a Raspberry Pi Pico, for a budget of about 30€.
Also: Unexpected Maker TinyS3, FeatherS3 and ProS3 boards feature ESP32-S3 dual-core wireless MCU - CNX Software