Ubuntu 22.10: Release Date & New Features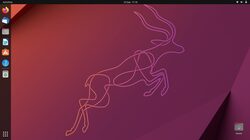 Ubuntu 22.10 "Kinetic Kudu" will be released on October 20, 2022, which isn't that far away — though you don't have to wait that long to try it as the Ubuntu 22.10 Beta will be released on September 29, 2022.
In this post I round-up and run-through new features in Ubuntu 22.10, as well the most notable changes, app updates, release info, and more.
Ubuntu developers gave Ubuntu 22.10 "Kinetic Kudu" as its codename. As codenames it isn't the most revelatory. "Kinetic" is an adjective related to motion, whilst a Kudu is a species of African antelope, the male of which have some impressive spiralled horns.
UPDATE
Ubuntu MATE 22.10 is a modest update by recent standards and focused on "quality of life improvements". And there is good reason why this release of Ubuntu MATE doesn't feature the usual bucket 🪣 list of changes you'd typically expect, and that's because I've been helping bring the full Ubuntu MATE experience to Debian MATE 🧉

This may raise some questions for Ubuntu MATE users, so let's try and address them...