Firefox 119 Promises to Let You Import Some of Your Chrome Extensions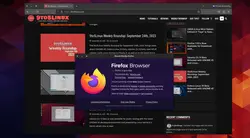 Firefox 119 doesn't look like it comes with big changes, but only a few improvements here and there. For example, it promises to let you import some of your Chrome extensions (if they're available for Firefox, of course) when migrating your data from Google Chrome.
It also improves the Firefox View feature with more content, including browsing history, along with the ability to sort it by date or site, recently closed tabs, as well as viewing of all the opened tabs from all windows and all tabs from all of your synced devices.