LibreOffice 7.6.2 and 7.5.7 Released to Address Critical WebP Vulnerability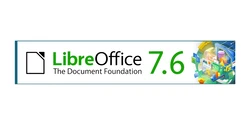 Arriving earlier than initially planned, the LibreOffice 7.6.2 and LibreOffice 7.5.7 updates contain a fix for CVE 2023-4863, a heap buffer overflow discovered in the widely used libwebp library, which is used to decode the now popular WebP graphics format.
This security issue affects all applications that use the libwebp library, including major web browsers like Mozilla Firefox, Chrome/Chromium, or Edge. It is marked as critical and it could allow a remote attacker to perform an out-of-bounds memory write via a crafted HTML page.
Update (by Roy)
From the original blog:
Berlin, 26 September 2023 – The Document Foundation is releasing LibreOffice 7.6.2 Community and LibreOffice 7.5.7 Community ahead of schedule to address a security issue known as CVE 2023-4863...