ODROID-Go Ultra Amlogic S922X portable gaming console and devkit launched for $111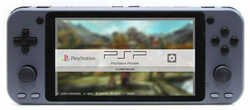 Hardkernel ODROID-Go Ultra (OGU) portable gaming console and devkit is powered by the same Amlogic S922X hexa-core Cortex-A73/A53 processor found in the company's ODROID-N2+ SBC. The new model also adds a 16GB eMMC flash for faster storage and increases the RAM capacity to 2GB.
The Korean company's adventure with portable gaming consoles started with the ESP32-based ODROID-Go to celebrate its 10th birthday in 2018. At the time it looked like a side project, but the console was popular enough that they released their first Linux handheld game console with the ODROID-Go Advance (OGA) in 2019, and then the ODROID-Go Super (OGS) in 2020 with a larger 5-inch display, and both equipped with a Rockchip RK3326 quad-core Cortex-A35 processor. The new ODROID-Go Ultra is based on the same design as the OGS model, but with a serious jump in performance, and the ability to support more demanding emulators.