Working with Btrfs – General Concepts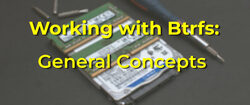 This article is part of a series of articles that takes a closer look at Btrfs. This is the default filesystem for Fedora Workstation and Fedora Silverblue since Fedora Linux 33.
Filesystems are one of the foundations of modern computers. They are an essential part of every operating system and they usually work unnoticed. However, modern filesystems such as Btrfs offer many great features that make working with computers more convenient. Next to other things they can, for example, transparently compress your files for you or build a solid foundation for incremental backups.
This article gives you a high-level overview of how the Btrfs filesystem works and some of the features it has. It will not go into much technical detail nor look at the implementation. More detailed explanations of some highlighted features follow in later articles of this series.