CERN, Fermilab select AlmaLinux as standard for big science (UPDATED)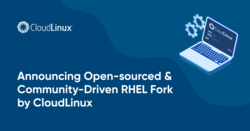 AlmaLinux, a somewhat popular free Linux distribution derived from Red Hat Enterprise Linux (RHEL), received a vote of confidence on Thursday from the European and American science communities.
CERN, the European Center for Nuclear Research, based in Switzerland, and the Fermi National Accelerator Laboratory (Fermilab), based in the US State of Illinois, said they will offer AlmaLinux as the standard Linux distribution for experiments at their facilities, based on discussions with researchers.
"AlmaLinux has recently been gaining traction among the community due to its long life cycle for each major version, extended architecture support, rapid release cycle, upstream community contributions, and support for security advisory metadata," the two research organizations said in a joint statement. "In testing, it has demonstrated to be perfectly compatible with the other rebuilds and Red Hat Enterprise Linux."
UPDATE
CERN and Fermilab will make AlmaLinux the standard distribution for experiments at their facilities based on feedback from stakeholders.

Following CentOS's withdrawal from the enterprise server distribution market, AlmaLinux and Rocky Linux have emerged as the two best RHEL-based derivatives in this segment. As a result, it is not surprising that when looking for a free alternative to Red Hat Enterprise Linux, the choice frequently comes down to one of the two.

Probably two of the world's leading scientific laboratories, the Swiss-based CERN and the US-based Fermilab, faced a similar dilemma. But first, let's say a few words about each of them.

The European Organization for Nuclear Research, CERN, is the largest particle physics laboratory in the world. Located near Geneva, Switzerland, CERN has gained worldwide attention with its Large Hadron Collider (LHC), the world's largest and most powerful particle accelerator.