Pop OS Review: Reasons why its an all-rounder Linux distro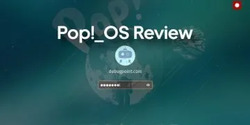 Few reasons why System76's Pop OS is the best all-rounder Ubuntu-based Linux distribution.
Pop!_OS is a Ubuntu Linux-based derivative developed and created by American computer manufacturer System76 for their lines of hardware devices. System76 sells high-end servers, desktops, laptops and other peripherals. And all of their runs on the Ubuntu variant Pop!_OS.
Since its inception, the Pop!_OS team has had a different vision of the customized Ubuntu and the default desktop GNOME.