MD Ryzen 7000 gives Windows users the perfect reason to move to Linux (UPDATED)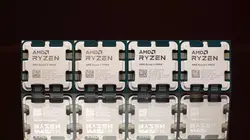 AMD Ryzen 7000 processors are now on sale, and those running the silicon in Linux PCs will apparently find the CPUs are faster with security mitigations turned on, which is counterintuitive for sure.
[...]
Of course, turning on such defenses comes with the expectation that you may have a slight performance hit – or a heftier one, or perhaps at best your system might be pretty much unaffected. But what you definitely wouldn't expect is that it'd run faster with the mitigations applied.
So, with the security mitigations turned off, a route some folks might take to chase better performance, the Linux system is actually being slowed down – while leaving it more vulnerable to exploitation at the same time. A lose-lose situation if ever there was one.
UPDATE
Back in 1996, APM (Advanced Power Management) was replaced by ACPI (Advanced Configuration and Power Interface). Linux did not gain ACPI support until 2002. ACPI was originally developed by Intel, Microsoft and Toshiba, with HP, Huawei and Phoenix joining the development at a later date.

Back in 2002, to improve compatibility between Intel and certain AMD chips (remember the Athlon chips?), a special instruction set was added to the Linux kernel for AMD chips. It caused the processor to briefly stop/pause processing instructions, presumably to keep ACPI in "sync." However, the new AMD chips no longer require this intervention ... but it's still there. Or, at least it was.

According to an article on The Register, Intel's Dave Hansen issued a patch that limits the instruction set to Intel CPUs only, since they use a different method to pause the CPU than AMD CPUs use. The new patch should be available when the Linux 6.0 kernel is released on October 2, 2022.

EXCEPT ... PCLinuxOS users won't have to wait for the 6.0 kernel to appear. Texstar has applied the patch to the 5.19.12 kernel, and plans to also apply it to the LTS 5.15.71 kernel.

Don't expect to see huge speed increases on AMD processors. Many of the AMD processors currently in use are faster than their 20-year-old predecessors, so desktop computing speeds are expected to be minimally affected, with little to no noticeable difference in speeds. Early reports indicate that the most noticeable differences are in a quicker boot time, and large programs at least appear to be launching a tad quicker.