9to5Linux Weekly Roundup: September 24th, 2023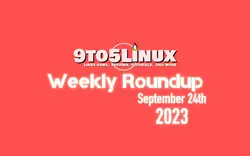 This week we didn't get so many releases, but we did get some big ones, starting with the GNOME 45 desktop environment, which already landed in openSUSE Tumbleweed's repos, and continuing with the beta versions of the upcoming Fedora Linux 39 and Ubuntu 23.10 releases to keep up occupied.
On top of that, we finally got a new HPLIP release with support for the latest Fedora and Ubuntu distros, a new mini PC from TUXEDO Computers, and a new KaOS Linux release. Below, you can read this week's hottest news and access all the distro and package downloads in 9to5Linux's Linux weekly roundup for September 24th, 2023.