OpenBSD vs. FreeBSD: What Is the Difference, Which Is Best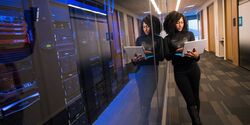 OpenBSD and FreeBSD are server-focused descendants of the original Berkeley Software Distribution, or BSD developed at UC Berkeley from the late 1970s through the 1990s.
As popular open-source projects, they have dedicated followings as alternatives to Linux. How do they differ, and which one may be right for you?
Both OpenBSD and FreeBSD have installation programs that let you partition and install these systems on a computer, similar to those of Linux distributions. Still, the experience of installing the two OSes is very different.