5 Operating Systems You Should Try If You're New To Raspberry Pi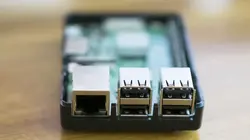 With all the cool things that a Raspberry Pi can do, from powering a takeout display to converting your garage door into a smart one, you're probably already looking to get started with this popular single-board computer. Lucky for you, there are a ton of resources and tutorials you can find online. The official documentation by the Raspberry Pi Foundation alone is more than enough to get on the right foot. Add that to the dozens of YouTube creators and hobbyists sharing their Pi know-how on their personal channels, and you have a wealth of information ready at your fingertips.
However, before you can even begin experimenting with electronic and software projects on your Raspberry Pi, you first need to decide on what operating system to install on the board. The Pi is compatible with an extensive variety of OSes, so it can be quite a headache to choose one. For your convenience, we've listed five of the must-try operating systems you should consider for your board.