Hands-on, Ad-free browsing at your home with Leap Micro 5.4 Beta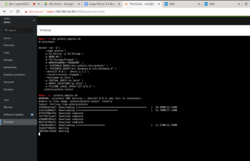 The Beta version of our Immutable HostOS Leap Micro 5.4 is now available. The update brings SELinux in enforcing mode by default as well as tuned. Leap Micro is not a traditional distribution, but rather a lightweight HostOS for running virtual machines and containerized workloads.
Leap Micro is an openSUSE equivalent of SUSE's SLE Micro.
In this article, I would like to show you how it can be practically used to enhance your daily ad-free experience at home. I was able to replicate the entire setup in the VM, including downloading the image, in under 15 minutes.
My personal use case for Leap Micro is to have as much ad-free browsing as possible, DNS entries for local services, and a Nextcloud instance as a bridge to share pictures and videos in between my wife's iPhone, kids tablet and my Android phone.