An Extension to Change Battery Indicator Icon in GNOME Shell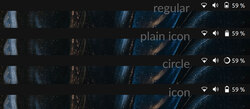 If so, a new GNOME extension — of course! — lets you do it.
When you install and enable the Battery Indicator Icon you can pick from three alternative battery icons: a plain battery icon (with empty portion slightly shaded); a circle (my favourite); or a plain battery icon with the empty portion empty.
They look like this...