Xfce 4.18 Looks Exciting – Check Out Its Best New Features (UPDATED)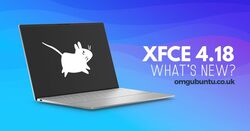 I can lie: my excitement levels are rising because an all-new version of the Xfce desktop environment is edging towards release.
Nearly two years of development has gone in to shaping Xfce 4.18, which is due for release on December 15, 2022. The release will be the stable series follow-up to Xfce 4.16 which debuted back in Christmas of 2020 (and brought some cool new features like fractional scaling support).
Keen to discover what's new and improved in the latest version of this lightweight desktop I've dug through code commits, developer tweets, and the odd bug report or two to write-up this run-down about what to expect.
Let's dive in!
UPDATE
The Xfce team has announced the release date of the next iteration of the desktop, which includes a good number of features to polish the fan-favorite Linux UI.

When the next version of Xfce is released, you might not be blown away by an array of new and game-changing features. Instead, what you'll find are plenty of subtle new features and fixes that make the open source desktop better than ever… all the while remaining very familiar, stable, and easy to use.

The new features include a number of improvements to the Thunar file manager – such as a new bookmark menu, Recent sidebar entry, customizable keyboard shortcuts, option to show full directory path, recursive search, UNDO/REDO options, a split view, support for drag & drop items in the view panels, and the ability to execute shell scripts from within a directory.

As far as the desktop, you'll find the panel length is now configured in pixels (as opposed to a percentage), a new Keep Panel Above Windows option, more font options for the Xfce clock applet, and header bards that can be disabled in dialogs.

Also included are a new default multi-monitor behavior that can be configured before you attach a second display, fixes for move-to-monitor, and 1.25/1.75 scale ratios.
Late coverage by Liam Proven (Thu 8 Dec 2022):
Xfce is the slow-moving, sensible Linux desktop option, and new versions only appear every year or two. Version 4.18 is coming soon, and you can try it in the early test builds of Xubuntu 23.04.

The next short-term release of Ubuntu will be 23.04, scheduled for April, and as the company's official Twitter page hinted, it will be called "Lunar Lobster."

This release cycle, the desktop that may see the biggest changes is Xfce. Xfce 4.16 appeared in 2020, and the new version is nearly ready.