10 Best Windows Alternative OS: Which One is Best for You?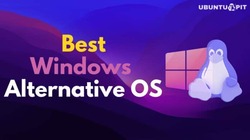 Before buying a computer, there are many factors to consider, such as its appearance and features. But have you ever thought about the operating system? Some people do, but many don't. If you're not sure which OS is right for you, don't worry – you're not alone. Thank you for being inquisitive and wanting to learn more. Even though it is the era of modern technology, you're still using Windows? There are many other operating systems that are faster and more useful than Windows. If you like innovation, then keep reading to learn about some excellent alternatives to Windows.
Linux distros can be an excellent alternative to Windows OS. Linux distros are open source and free, meaning you don't need to purchase the operating system or pay hefty fees for updates. Plus, they are highly customizable and provide a secure environment with plenty of customization options.