Progress Update For GNOME 43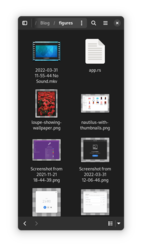 GNOME 43 is out the door now, and I want to use this post to share what I've done since my post about my plans.
[...]
Since my post in April, Loupe has received many changes. Allan Day provided a new set of mockups for me to work from, and I've implemented the new look and a sidebar for the properties. There are some open questions about how the properties should be shown on mobile sizes, so for now Loupe doesn't fit on phones with the properties view open.