GnuCash 5.0 Accounting Software Released with New Stock Transaction Assistant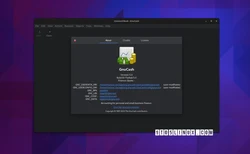 Highlights of the GnuCash 5.0 release include a new Stock Transaction Assistant that can be accessed from the Actions menu. This feature will guide you through entering most investment transactions for bonds, mutual funds, and stocks.
This release also introduces an Investment Lots report that displays a graph of capital gains and losses in a period by investment lot. This feature works only when you use the View Lots dialog to manage capital gains and losses and can be accessed from the Reports > Assets & Liabilities menu.
Update (by Roy)
In LWN:
Version 5.0 of the GnuCash accounting tool is out. Changes include a number of investment-tracking improvements, better completion in the register window, a reworked report-generation system, and more.
New article about GnuCash:
GnuCash is a powerful and flexible accounting tool that can be used for small business invoicing and accounting. It has a number of features that make it particularly well-suited for this purpose, including the ability to track expenses and income, generate reports, and manage invoices. Additionally, GnuCash is free and open source, which makes it accessible to small businesses with limited resources. In this article, I discuss the features of GnuCash that make it easy for you to get started using it in your own small business.

I began using GnuCash a number of years ago for my personal finances but found it could also function as a useful tool for my small business too. I'd been using a proprietary solution for much of the life of my business. I grew tired of being forced to upgrade periodically to get access to my invoices and statements for my small business. Moving to GnuCash gave me the ability to integrate my small business accounting with my personal finances without sacrificing any features.