Audacity 3.4 Released with Music Workflows, New Exporter, and More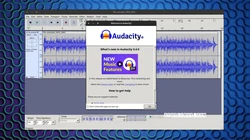 Coming more than six months after Audacity 3.3, the Audacity 3.4 release is here to introduce three new features, starting with music workflows, allowing you to switch between hh:mm:ss time and Beats & Measures, as well as to time-stretch clips to align them to a song's tempo.
The second new feature is a new exporter window that gives you easier access to various options like custom mapping and sample rate, and adds native file browser support to the "Browse" button. Finally, the third new feature is time stretching support by holding the Alt key while hovering over the top third of a clip edge.
Update (by Roy)
Another one:
Also here:
Late coverage:
More here:
Another bugfix release of Audacity: