Maps and GNOME 45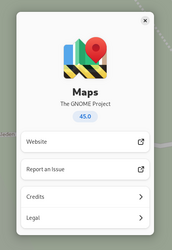 The GNOME 45.0 release has just recently been published, and with it a new release of Maps. Accompaning the release is also a new stable version (1.1.0) of our libshumate map rendering library containing a lot of improvements to the client-side vector-based renderer.
Many of the new features has already been presented here, but a short re-cap...
The zoom control buttons has been moved (back) to using overlay buttons on top of the map view. A rotation button has also been added, appearing when the map is rotated away from the regular "north is up" which can then be clicked to reset the rotation.