CAPS LOCK BEHAVIOUR DISABLED IN GNOME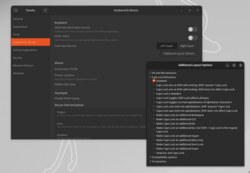 SOMETIMES I PRESS THE CAPS LOCK KEY BY ACCIDENT, USUALLY WHILE PLAYING A VIDEO GAME. I THEN FIND MYSELF UNABLE TO TYPE A PASSWORD OR I AM ACCUSED OF SHOUTING ONLINE.
OVER COFFEE, MY FRIEND MARTIN EXPLAINED THAT IT'S POSSIBLE TO DISABLE THE CAPS LOCK KEY COMPLETELY IN LINUX. I'D NEVER CONSIDERED DOING THIS, MISTAKENLY THINKING THE ONLY OPTIONS WERE TO REMAP IT TO SOMETHING ELSE.
IT TURNS OUT GNOME TWEAKS HAS AN OPTION. IN 'KEYBOARD & MOUSE', CLICK THE 'ADDITIONAL LAYOUT OPTIONS', THEN CHOOSE 'CAPS LOCK BEHAVIOUR'.
I WAS SOMEWHAT CONFUSED FOR A WHILE THOUGH. IT ALREADY HAS THE 'DISABLED' OPTION CHOSEN. THUS...