Pi-lomar Puts an Observatory in Your HandsPi-lomar Puts an Observatory in Your Hands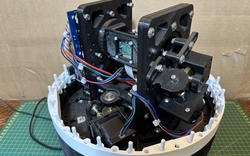 Humans have loved looking up at the night sky for time immemorial, and that hasn't stopped today. [MattHh] has taken this love to the next level with the Pi-lomar Miniature Observatory.
Built with a Raspberry Pi 4, a RPi Hi Quality camera, and a Pimoroni Tiny2040, this tiny observatory does a solid job of letting you observe the night sky from the comfort of your sofa (some assembly required). The current version of Pi-lomar uses a 16mm 'telephoto' lens and the built-in camera libraries from Raspbian Buster. This gives a field of view of approximately 21 degrees of the sky.
While small for an observatory, there are still 4 spools of 3D printing filament in the five different assemblies: the Foundation, the Platform, the Tower, the Gearboxes and the Dome. Two NEMA 17 motors are directed by the Tiny2040 to keep the motion smoother than if the RPi 4 was running them directly. The observatory isn't waterproof, so if you make your own, don't leave it out in the rain.