CinePi Project Promises Open Source Movie Making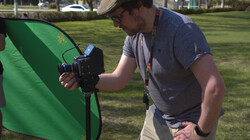 Today, there's open source options for pretty much anything mainstream, but that doesn't mean there aren't still some niches out there that could benefit from the libre treatment. The CinePi project is a perfect example — before today we didn't even know that an open hardware and software cinema-quality camera was out there. But now that we do, we can't wait to see what the community does with it.
Inside the 3D printed enclosure of the CinePi, there's a Raspberry Pi 4 with HQ camera module, a four-inch touch screen, a Zero2Go power supply with four 18650 cells, and a Notcua fan to keep it all cool. The design intentionally favors modules that are easy to source from the usual online sources. You'll need to be handy with a soldering iron to follow along with the beautifully photographed assembly guide, but there's nothing that needs to be custom fabricated to complete the build.
An update (by Roy)
More coverage here:
The Raspberry Pi has been used for many do-it-yourself photography projects over the years, including the recent Leica MPi camera and Photon light meter. Now, the open-source treatment has arrived for cinema.