When Do Arch's Users Get the Latest GNOME Version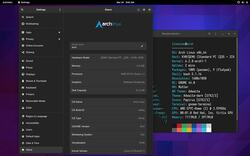 Arch Linux is a popular distribution known for its rolling release model, which provides its users with the latest software updates as soon as they are available.
GNOME, one of the most popular desktop environments for Linux, is also a common choice among Arch users. However, some of them may be confused about when they can expect to receive the latest version of GNOME.
This happens every time a new version of the desktop environment is released. Why? Because it is a rolling release distribution, many Arch users expect it to be available for installation from the stable Arch repositories the very next day.
However, the case differs regarding the GNOME desktop environment, so let's shed more light on the matter.