Escuelas Linux 8.0 Educational Distro Celebrates 25 Years of Promoting FOSS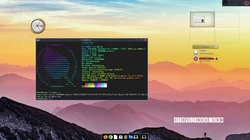 Escuelas Linux 8.0 is dubbed as the 25th-anniversary edition of the Debian/Ubuntu/Bodhi Linux-derived GNU/Linux distribution and it's available in two editions.
The 64-bit edition is based on the upcoming Bodhi Linux 7.0 distribution, which in turn is derived from the well-tested Ubuntu 22.04 LTS (Jammy Jellyfish) long-term supported operating system series. On the other hand, the 32-bit edition is based on Bodhi Linux 6.0 and its Debian GNU/Linux 11 "Bullseye" base.
Update by Rianne Schestowitz
Escuelas Linux is a unique distribution that focuses on the educational side of things, with the likes of Bodhi Linux, Ubuntu, and Debian powering it.

It features a comprehensive set of educational software and resources that are of use to schools, colleges, and even universities.

In a recent announcement, they introduced the 25th-anniversary edition of Escuelas Linux and also thanked the many people who contribute to the Linux ecosystem.
Update by Rianne Schestowitz
Esuealas Linux is a distribution aimed at the education sector, from preschool to high school, and includes a collection of educational software. This distribution can be installed on either 32-bit or 64-bit hardware and is based on Bohdi Linux.

The list of pre-installed educational software is impressive, with the likes of TuxPaint, GCompris, TuxMath, Scratch, WxMaxima, Geogebra, Kalzium, and many more. Along with the educational software, you'll also find standard packages such as LibreOffice, GIMP, Krita, Inkscape, Firefox, Chrome, Chromium, and more.