Audacity 3.4.2: Fix for Clips Shifting and Mix and Render Gain Reset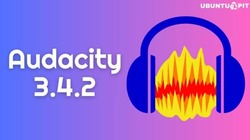 Audacity, the popular audio editor and recorder app, has announced the second update to its 3.4.x release series. The new update, Audacity 3.4.2, brings several bug fixes and improvements to enhance the user experience.
One of the major bug fixes in this update is a crash that occurred when opening projects with zero-length clips. Another significant fix addresses a crash that happened when clearing loops. Audacity 3.4.2 also fixes Nyquist-related crashes and a crash that occurred when closing the application.
The latest update now considers the sample rate of tracks when exporting a file, and the last-used sample rate is remembered. Additionally, copy-pasting now pastes into audio by default, but users can change this setting in Preferences.