LibreOffice 7.5.2 Open-Source Office Suite Is Out with 96 Bug Fixes, Download Now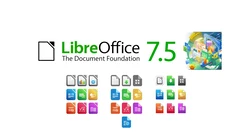 The LibreOffice 7.5.2 point release is here almost a month after the LibreOffice 7.5.1 point release to address a total of 96 bugs that have been reported by users or discovered by the LibreOffice developers in the LibreOffice 7.5 series.
LibreOffice 7.5.2 is available for download right from the official website as binary installers for DEB or RPM-based GNU/Linux distributions, as well as a source tarball for system integrators and those who want to compile it from sources.
The Documentation Foundation:
LibreOffice 7.5.2 Community, the second minor release of the LibreOffice 7.5 line, the volunteer-supported free office suite for desktop productivity, is available from from our download page for Windows (Intel/AMD and ARM processors), macOS (Apple Silicon and Intel processors), and Linux.