Proxmox Backup Server 2.4 Adds LDAP Realm Authentication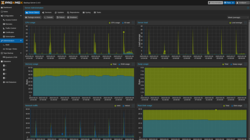 Proxmox Backup Server is an open-source backup solution that allows users to back up and restore virtual machines, containers, and physical hosts. It is designed to work with Proxmox Virtual Environment, a powerful open-source virtualization platform.
The software provides a web-based user interface for managing backups, creating backup jobs, and restoring data. It supports various backup types, including full, incremental, and differential backups, and can store backups locally or remotely.
Today, Proxmox Server Solutions GmbH released a new version of its backup management platform, Proxmox Backup Server 2.4, so let's check what's new.