GNOME 43.3 Brings Minor Fixes to GNOME Maps and GNOME Software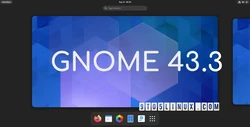 GNOME 43.3 was released only a month after GNOME 43.2 so you can imagine that it doesn't include big changes. In fact it's a small update, but I wanted you to know that it's officially out and it's coming soon to your distro's repositories in the coming days.
GNOME 43.3 brings bug fixes to the GNOME Maps app, for the blurry shape layers issue on zoom, as well as for the accuracy of the user location marker positioning. Various other bugs were also fixed, but no details were provided, so if you're using GNOME Maps regularly, keep an eye on this update.